---
History of Himalayan Persians
Work to develop the Colorpoint Persian, or Himalayan, began in the U.S.and England around 1950.
The first step in working toward a Colourpoint Persian was to cross the Siamese and the Persian.
We proudly present the smallest at Phalkean's....our kittens. Having kittens is always very very special for us! We are giving our best attention ,love and care to our littlest one.

HIMALAYAN

Our youngest son called him Bob. And he is the sweetest boy we ever owned. Bob has a really special temper and everyone who knows him loved this stunning boy. He is very typical with heavy weight and massive bones. He has also wonderful blue eyes.

HIMALAYAN

This is our homebred girl called Wendy. The look we love soooooooo much, great round big wide open eyes and a very sweet expression. Wendy and Bob are our absolute perfect couple and we`re dying to see their little kittens !

EXOTIC

Our blue temptation called Coco. Coco has a very sweet and lovely charakter. She loves to cuddle and being with us the whole day. She is never afraid. She loves people. We are very proud to have this beauty in our Exotic breeding program and we are looking forward to some different-colored kittens.

EXOTIC

Happy is our first homebred Exotic generation and we are very proud of her. She was born only a few minutes and we are falling in love with her. Of course she stays in our cattery. We love her big round wide open eyes and her sweet expression.


Kerstin & Petra
The Owners
---
It started with fascination.
I was always fascinated by cats. Since my childhood I ever loved this kind of pet. As I was grown up I make my dream come true and started a little breeding program with my most loving cats- Himalayan Persian and Exotics.
Hope you are doing well.Just want to show you "Shut Up's" video,she is having so much fun with us and we love her so much..:) We call her La Row now and this is her first snow. Warm regards Ezra
A shorthaired persian cat.. Exotic..or the lazy man's Persian
by Kerstin Fuhrmann
---
A shorthaired persian cat..Exotic..or the lazy man's Persian
---
The Exotic is an ideal breed that produces a quiet, sweet, peaceful and loyal companion. They are easy going and not much seems to disturb them. extremely affectionate.
One evening.. a couple was watching the TV. An advertising is on the TV with an cat as star and both are very surprised. They saw a cats who looks like a Persian but it has a short coat. The man says what kind of cat is it? He is surfing on the web and see it's an EXOTIC –Exotic what?. With today's busy lifestyles the cat has become a popular pet. Cats are best kept indoors and do well in an apartment or a house. The popularit9 of the Persian has been evident for many years. The Persian represents the largest class in shows and boasts the largest number of cats registered each year in CFA. However, Persians require daily grooming to maintain their beautiful coat. For busy people who like the look of a Persian but don't have time for the daily grooming demands, the Exotics are the best kept secret of the cat fancy.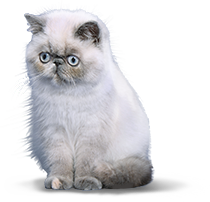 They are bred to meet the Persian standard in every way with one very special exception: the coat has a thick, dense, plush, short coat. The Exotic coat is unique to the breed and gives them a soft, rounded, teddy bear look. Their wonderful coat requires much less combing than a Persian's and will not mat or tangle. Because of the ease of grooming for this special breed, Exotics are sometimes affectionately referred to as the lazy man's Persian.
What is it like living with an Exotic? Are they like Persians, or do they resemble their shorthaired ancestors? Over the years, as the type and coat have changed, so has the personality of the Exotic. As the Exotic's line of Persian ancestors became longer and longer, their temperament has become more and more Persian like. Indeed, there is no longer much difference in the temperament of the two breeds. Exotics have a quiet, endearing nature. Their voices are seldom heard.
The Exotic is an ideal breed that produces a quiet, sweet, peaceful and loyal companion. They are easy going and not much seems to disturb them. In general, they are extremely affectionate. They quietly beg for your attention by just sitting in front of you with an irresistible look focused on your eyes. They will jump in your lap to curl up for a nap or push their wet nose right into your face. Some like to sit on your shoulder and hug you when you pet them. They may or may not sleep with you as some prefer cooler places like the bricks on the hearth or the tiled floor. An Exotic is very comfortable to have in your home. They give you privacy and are not constantly demanding attention. They will, They are just as playful and fun loving as other breeds. They will jump until exhausted trying to catch a toy on a stick, or they will sit and carefully study how to get the toy down from the top of the bookcase where it was placed when you stopped playing with them.
We felt in love with this wonderful breed so fast and we think we are not the only one..
We have lovely, promising kittens available

August 03 2019

Tica's BEST Himi Kitten in Showsaison 18/19.

August 02 2019